At Unionville Family Wellness Centre, we take great pride in providing unique and specialized spinal rehabilitation programs our patients. Below is a sampling of the different chiropractic services we offer in our clinic.
- Specialized Chiropractic Care
- Physical Therapy
- Therapeutic and Corrective Exercises
- Spinal & Postural Assessment
- Gait Analysis and Biomechanical Evaluation
- Premium Custom Orthotics
- Lifestyle and Nutritional Advice
---
Specialized Chiropractic Care
We provide advanced spinal correction utilizing "state of the art" chiropractic technology, known as the Neuromechanical Impulse Adjusting Instrument. Never in the history of chiropractic have we been able to provide the level of help and expertise that now exists. These modern methods of spinal correction are even safer, more comfortable and more effective than ever before.
Dr. West has extensive post-graduate training and four decades of clinical experience, which allows him to skillfully diagnose and effectively treat your condition.
---
Physical Therapy
To complement and enhance the healing effects of Dr. West's specific Chiropractic treatment, we at Unionville Family Wellness Centre also provide the following physical therapeutic procedures:

- Therapeutic Ultrasound
- Tri-Heterodyne Interferential Current Therapy
- Cryotherapy
- Moist Heat Therapy
- Soft Tissue Therapy
- Custom Home care Instruction
- Work Hardening Rehabilitation Program
-Postural Modification Techniques
---
Rehabilitative Exercise Programs and Therapeutic Exercises
At Unionville Family Wellness Centre, we have a vast library of evidence-based exercise protocols, which target specific muscles and joints, and aid in the rehabilitation of many conditions. Our team will take time with each patient to teach them their specialized exercise program, which is designed just for them to help strengthen and correct their own unique problem. These exercises can be performed in the comfort of your own home and can improve the effectiveness of your spinal correction by as much as 30-40%. In addition to skeletal misalignment, muscles and connective tissues can be out of place or strained by improper alignment and use. Specific exercises and stretches can help your body stay in balance and in health.


---
Spinal & Postural Examination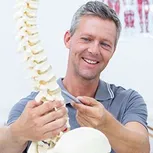 We conduct very thorough postural, orthopedic, neurological and spinal examination in order to assess spinal health and diagnose conditions. These postural and spinal screenings can allow Dr. West to see the progression of the patient's condition, and make recommendations regarding effective treatment of the symptoms.
---
Gait Analysis and Biomechanical Evaluation
Dr. West utilizes his post-graduate training in biomechanical evaluation and orthotic prescription from the University of Toronto, to assess the way his patients stand, walk and move. Improper gait may contribute to the development of misalignment in the spine, or the exacerbation of a pre-existing condition.
---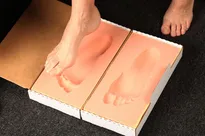 Premium Custom Orthotics
Improper foot function and weight distribution of the lower extremities is often the cause of many lower leg, pelvic, back and neck overuse injuries. Dr. West works in partnership with a leading orthotic laboratory to provide premium custom orthotics for patients with abnormalities of the feet, knees and spine. Orthotics are biomechanical devices made from precise molds of the foot, which are made to control abnormal alignment of the foot and ankle joints. Dr. West uses a specialized casting technique to take an exact mold of the foot, to create an orthotics that are specific to the patient's foot and provide optimal support for weight bearing activity.
---
Lifestyle and Nutritional Advice

We often find it helpful to coach our patients on certain activities they should avoid or do differently to avoid aggravating their particular health challenge. Our goal is to help every patient achieve a fulfilling and happy lifestyle full of the activities they enjoy most. We also provide specific recommendations on nutritional supplements and healthy food choices to enhance our patient´s return to optimal health.